Endometriosis and Adenomyosis Society
Our society was established in 2009 by physicians to inform the patients, relatives of the patients, and other physicians about this disease and associated problems. With our effort, we aim to lessen the detrimental effects of endometriosis in the future, which currently affects every one out of ten women within the reproductive age.
 Endometriosis is a chronic disease with symptoms, mainly pain and has no definitive treatment at the moment. It takes an average of 8 to 10 years to diagnose. This disease and the associated symptoms effect not only the patient and the patient's daily life, but also patient's close friends and relatives. It prevents the patient to have a normal daily life, a healthy psychological state, a healthy private life and it also effects patient's economic situation. This is due to the fact that this disease and its side effects consume a lot of energy. Each patient has a different experience with the disease. Some experience excruciating menstruation pain while others complain f fertility problems.
 The aims of our society in order to improve our patients' lives;
To lessen the effects of the disease and to improve quality of life of the patients with endometriosis
To guide women with endometriosis to receive correct information, treatment and necessary support
To inform women on the etiology, the stages, the associated symptoms and the treatment methods of this disease and help them fully understand their situation
To guide women to overcome the negative effects of this disease
To reach out to the patients and their relatives and physicians, and increase their awareness of this disease while providing them reliable resources
Share actual and up-to-date information and resources about this disease
Work in a transparent and supportive environment

Our Projects
Renewal of our website which had begun in 2017 has increased our motivation and dynamism. With both of our websites we are trying to improve awareness about endometriosis.

www.endometriosisturkey.com  www.endometriozis.org
Our website has been found to increase awareness on endometriosis among out patients and their relatives and among physicians and healthcare workers and also to provide accurate information on the subject.
Thru our Facebook page, we aim to share information which is helpful in increasing the awareness on endometriosis and also to provide a platform where women with endometriosis and their relatives can share their concerns, feelings and information in order to support each other.
On our website, we created a 'share your story' section for endometriosis-sufferers where they can share their psychological and physical problems. This makes it possible for them to find support and to realize that they are not alone during that period of their lives.
 'Ask a specialist' section on our website and our social media accounts allow patients to ask questions freely and thus provides us a platform to inform the patients in an accurate way.
Every three months we prepare e-bulletins. We put together the information about new clinical trials on endometriosis, last findings, conferences and related activities and we publish this summary on our website.
Our translation team consisting of physicians doing their residencies that voluntarily translate newest findings and papers on endometriosis from all around the world into Turkish and share them on our social media accounts and on our website.
Our research team (Turkish Endometriosis Research Group) consisting of specialists conduct research in treatment options and disease formation.
We provide an up-dated information to the physicians. With the meetings named "EndoAcademia" every year we give lectures on diagnosis and treatment of endometriosis in different cities.
With the support of municipalities, universities, and NGO's we organize meetings for public education on endometriosis, we participate in informational panels and organizations.
With the help of national and local TV and radio programs we inform people on endometriosis and thus increase the awareness.
We prepare national guidelines on diagnosis and treatment of endometriosis and adenomyosis for physicians.
We prepare informational videos on diagnosis and treatment of endometriosis. Additionally, we put videos from special and difficult operations on our website and our YouTube channel.
We conduct joint studies with international endometriosis societies. We prepare international congress and conferences.
We prepare brochures and booklets for our patients with endometriosis and adenomyosis.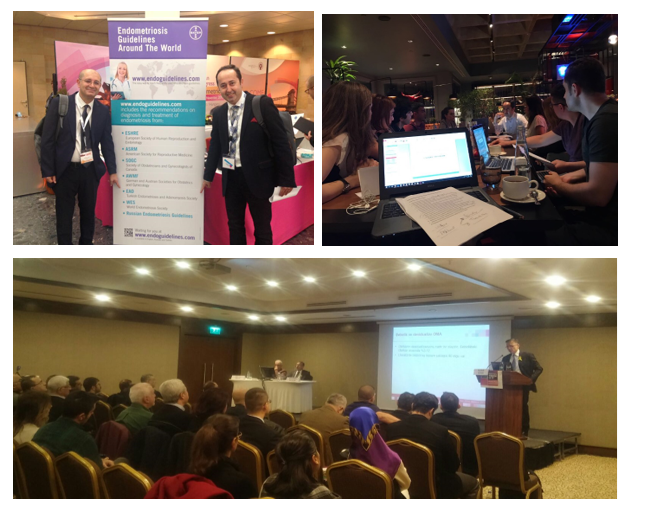 ACTIVITIES MARCH 2019
March 11, 2019, MSA EndoKitchen Workshop, Istanbul On March 11, in collaboration with the Culinary Arts Academy in Istanbul and with 28 participants we prepared a menu focusing on pain relief. We talked about endometriosis with the participants and answered their questions.
March 13, 2019, IMSE EndoKitchen Workshop, Izmir On March 13, in collaboration with Culinary Arts Institute in Izmir we organized the same workshop that we organized in Istanbul. Our chef Andac Yesilyurt prepared a menu with the participants aiming a menu for pain relief.
March 8, 2019 Akbank International Women's Day Activities On March 8, one of our board members Prof. Banu Kumbak Aygun, MD.   attended International Women's day activities organized by Akbank to talk about endometriosis and endometriosis awareness.
A Short Film on Endometriosis Awareness We filmed a short movie with our patients who volunteered to share their story. We started to broadcast this movie in March.
March 17, 2019  Breathing and Yoga Exercise On March 17, we organized a breathing and yoga exercise with yoga instructor Banu Cadirci Istanbul.
MARCH 2018 ACTIVITIES
9-10 March 2018, University of Health Sciences, 2nd Pelvic Rehabilitation Congress
On March 9-10, 2018 at the University of Health Sciences' Congress together with physiotherapy and rehabilitation specialists, our society organized a "Pelvic Pain Course''. During the congress, physicians from different specialties had the chance to share their knowledge. Assoc. Prof. Taner Usta, MD. and Tolga Karacan, MD, they both talked on endometriosis on behalf of our society.
For further information click here
8-11 March 2018, Uludag University Congress of Gynaecology and Obstetry
Our society organized a session on "Endometriosis-Pain/Infertility Management" on 9th of March at the Uludag University Faculty of Medicine Department of Gynaecology and Obstetrics 2nd Reproductive Endocrinology and Infertility Academy - 7th Gynaecologic Endoscopy Symposium and Workshop. Our associates Prof. Engin Oral, MD., Prof. Gurkan Uncu, MD., Prof. Umit Inceboz, MD., Assoc. Prof. Ercan Bastu, MD., Pinar Bahat, MD. and Isıl Kasapoglu, MD. were speakers at this session. Also from our society Ezgi Darıcı, MD. and Assoc. Prof. Hale Goksever Celik, MD. attended the congress.
For further information click here 
Famous names warned: 'Call your doctor, do not ignore!'
We initiated a press campaign where anchorwoman Serap Pakoz, pianist Gulsin Onay and actress Ayca Valier set in front of the camera to raise awareness on endometriosis.
For further information click here and videos: https://youtu.be/ydNF-TehbZg
Press coverage during March 2018:

Prof. Umit Inceboz, MD. gave an interview on Worldwide Endometriosis Day: Prof. Umit Inceboz, MD. answered questions on chocolate cysts (endometriomas). She is a specialist on endometriomas and also an executive member of Turkish Endometriosis and Adenomyosis Society. She explained the disease and warned patients; "Never ignore, call your doctor".  For further information click here    
The Society of Endometriosis&Adenomyosis announced that awareness about chocolate cyst, which affects about 178 million women worldwide and about 2 million women in Turkey, is very low.  For further information click here 
Our founding president Prof. Engin Oral, MD. gave an interview on endometriosis awareness, our society's aims and goals in the frame of the World Endometriosis Day. Engin Oral also warned patients on 'not to ignore' their symptoms. For further information click here 

Awareness campaign on social media:
We prepared the following banner in Turkish and in English. We used these banners along with the hashtags on our social media accounts to reach as many patients/women as possible.